Bài tập về giới từ môn Tiếng Anh Lớp 6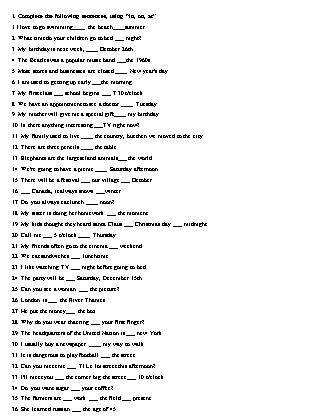 I. Complete the following sentences, using "in, on, at"
1.I love to go swimming____ the beach____summer.
2. What time do your children go to bed ___ night?
3. My birthday is next week, ____ October 26th.
4. The Beatles was a popular music band ___the 1960s.
5. Most stores and businesses are closed ____ New year's day.
6. I am used to getting up early ___the morning.
7. My first class ___ school begins ___ 7.30 o'clock.
8. We have an appointment to see a doctor ____ Tuesday.
9. My mother will give me a special gift____ my birthday.
10. Is there anything interesting ___TV right now?
11. My family used to live ____ the country, but then we moved to the city.
12. There are three pencils ____ the table
13. Elephants are the largest land animals___ the world.
14. We're going to have a picnic ____ Saturday afternoon.
15. There will be a festival ___ our village ___ October.
Bạn đang xem tài liệu "Bài tập về giới từ môn Tiếng Anh Lớp 6", để tải tài liệu gốc về máy bạn click vào nút DOWNLOAD ở trên
I. Complete the following sentences, using "in, on, at"
1.I love to go swimming____ the beach____summer.
2. What time do your children go to bed ___ night?
3. My birthday is next week, ____ October 26th.
4. The Beatles was a popular music band ___the 1960s.
5. Most stores and businesses are closed ____ New year's day.
6. I am used to getting up early ___the morning.
7. My first class ___ school begins ___ 7.30 o'clock.
8. We have an appointment to see a doctor ____ Tuesday.
9. My mother will give me a special gift____ my birthday.
10. Is there anything interesting ___TV right now?
11. My family used to live ____ the country, but then we moved to the city.
12. There are three pencils ____ the table
13. Elephants are the largest land animals___ the world.
14. We're going to have a picnic ____ Saturday afternoon.
15. There will be a festival ___ our village ___ October.
16. ___ Canada, it always snows ___winter.
17. Do you always eat lunch ____ noon?
18. My sister is doing her homework ___ the moment.
19. My kids thought they heard santa Claus ___ Christmas day ___ midnight.
20. Call me ___ 5 o'clock ____ Thursday.
21. My friends often go to the cinema ___ weekend.
22. We eat sandwiches ___ lunchtime.
23. I like watching TV ___ night before going to bed.
24. The party will be ___ Saturday, December 15th.
25. Can you see a woman ___ the picture?
26. London is ___ the River Thames.
27. He put the money___ the box.
28. Why do you wear that ring ___ your first finger?
29. The headquarters of the United Nation is ___ new York.
30. I usually buy a newspaper ____ my way to walk.
31. It is dangerous to play football ___ the street.
32. Can you meet me ___ 71 Le loi street this afternoon?
33. I'll meet you ___ the corner big the street ___ 10 o'clock.
34. Do you want sugar ___ your coffee?
35. The farmers are ___ work ___ the field ___ present.
36. She learned russian ___ the age of 45.
37. We can go to the market ___ foot.
38. ___ the end of next year, we will move to Paris.
39. He started learning English ___ 2005.
40. How many members are ___ your team?
41. The TV is ___ the corner of the room.
42. We'll have dinner ___ a restaurant.
43. We arrived just ___ time to see the pop star.
44. He always goes to work ___ time.
45. Who is that girl over there ___ the white dress?
46. Halloween is celebrated ___ the USA ___ October 1st.
47. My sister has a beautiful apartment. She lives ___ the third floor.
48. I'll wait for you ___ the bus stop.
49. The milk is ___ the refrigerator, next to the orange juice.
50. We arrived ___ the airport ___ time for the plane.
Fill in the blanks using correct prepositions:
Cenk lives .. 810 İstiklal Street.
The course begins . 8 June and ends .. October.
Peter is . class 2 B.
Peter goes to school .. Monday . Friday.
Students haven't got any lessons . the weekends.
Sheila gets up . 6.30 every morning.
Mike and his family go for a walk the evenings.
Michael has got a lot of posters and pictures .. cars . the wall . his room.
I go to school .. bus, not .. foot.
I went to bed midnight and got up . 10.00 . the morning.
Mozart was born .. Salzburg . 1756.
There is a car in .. .. our house.
Who is sitting .. to you?
There is a light the table.
Hurry up! We are going to the cinema five minutes.
I haven't seen Ann for a few days. I last saw her . Tuesday.
Jack's brother is an engineer but he's out of work the moment.
III. Choose the best answer:
1. I have photographs of my family _______ the wall of my office.
 	A. on 	B. next to 	C. at 	D. in
2. Mr. Smith's jacket is _______ the closet.
 	A. under 	B. in 	C. at 	D. from
3. Where's John? He's over there. He's standing________ Ellen.
 	A. on 	B. under 	C. next to 	D. between
4. It arrives_________ Chicago at ten o'clock.
 	A. at 	B. in 	C. near 	D. from
5. The teacher stands ________the class.
 	A. from 	B. at 	C. in front of 	D. by
6. There is a map on the wall just ________ the teacher's desk.
 	A. from 	B. above 	C. before 	D. in front of
7. February comes________ March
 	A. behind 	B. after 	C. before 	D. during
8. July comes ________ June.
 	A. before 	B. after 	C. behind 	D. in
9. "Tall" is the opposite ________"short".
 	A. to 	B. of 	C. against 	D. with
10. I always eat ______home.
 	A. at 	B. in 	 C. from 	D.to
 Fill in the blanks using correct prepositions:
Does your father work .. Hanoi?
What do you do .your free time?
Lan'll have a party . Friday evening.
David is good .. Math.
Are you interested ..sports?.
There's a good film .. the moment.
Would you like to come .my house lunch?
Thanks .. your letter.
I'll see my mom and dad .. their farm.
We have to work hard .home and .school.
She takes care .her family.
He works .a factory.
We always go to Ha Long Bay .vacation.
Tell me more ..your family.
Can you send me a photo ..your family?
She works a local supermarket.
He goes .the city his wife.
It takes 18 hours to get Hanoi .coach.
We write .each other twice a week.
My mother works the field .my father.
We'll visit her .Christmas.
Are you tired ..watching TV?
She often brings them school.
He is the president .our club.
She spends most the time .the couch .front .the TV.
What do you usually do .school?
Why don't you come ..?
They swap cards .their friends.
Will you play a game ..catch?
What do you do . recess?
They usually have portable CD player .small earphones.
I'll take part .your club.
They read or study .the same time.
We enjoy all our classes.
 .school we study many things.
 ..history, we study past and present events ..Vietnam and the world.
 ..physics, we learn how things work.
She learns how to use a computer ..her Computer Science class.
Math books are ..the shelves ..the left.
The largest library is Washington D.C, the capital .the USA.
Those books .the back the libraries are English.
Now, come and look the kitchen.
My uncle is ..work now.
Can I see the rest the house?
She'll have a party ..her birthday

Tài liệu đính kèm:
bai_tap_ve_gioi_tu_mon_tieng_anh_lop_6.docx